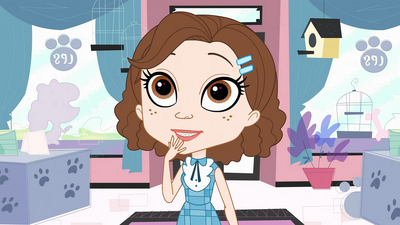 Madison was Blythe's replacement in "Summertime Blues and Missing Blythe."
She was voiced by Shannon Chan-Kent.
Contents
Mrs. Twombly "selected" Madison by calling out to her as she passed the shop and asking her if she wanted a job. She was introduced to Blythe when Mrs. Twombly was informing her of the pets' feeding regiment. Blythe showed her to the pets, wanting to make sure Madison couldn't talk to them like she could. She was later seen when Blythe said goodbye before going off to Fashion University North.
PersonalityEdit
Madison seemed quite dim-witted; She thought the word "herbivore" was funny, and claimed her nickname was "Madison". After Blythe departed for Fashion School, she asked Mrs. Twombly "Which one is Blythe?". She appeared to be germophobic, wearing a face mask when she was introduced to the pets.
AppearanceEdit
Madison is a fair-pale skinned girl about Blythe's age with big brown eyes and freckles below them, as well as a pink-peach lips. Her hair is brown with most of her bangs pinned back with blue clips. Her hair appears wavy/curly on the bottom. She wears a blue and white oriented outfit.